TAU - Test framework standardization: a new approach to optimize and improve test management in complex aerospace environments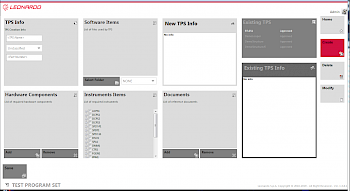 TAU is the test framework developed for Leonardo S.p.A. - Electronics Airborne and Space Systems for the management of avionics test systems.
The Framework, developed in .NET and TestStand, allows to manage all the aspects of the test machines that are not strictly connected to the UUT (Unit Under Test), but must be available in the system as user interface, instrumentation and calibration, processes, management, interfacing towards the database, users with relative access levels and authorizations and anti-tampering.
TAU was presented at the NI Aerospace and Defense Forum - Italy on 10 October 2019 together with Leonardo S.p.A. The presentation can be consulted on the NI website by clicking here
The development of TAU is based on well-diffused and consolidated environments according to a modular and extensible architecture that allows standardization and harmonization both in the development and in the use of TPS, with an advanced management of anti-tamper, of generation and reporting management and instrument management.
Find out more about TAU here: TAU IPSES - Leonardo presentation