CAN-IO: Input/output Card with 16 inputs and 16 outputs and CAN interface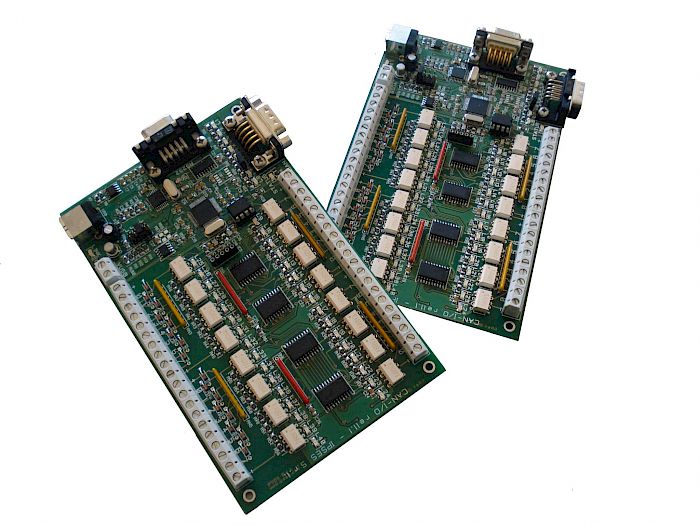 Code: CAN-IO
Category: I/O
Interface Type: CAN
Input Type: Digital
CAN-IO is a card with USB interface which allows managing 16 optocoupled inputs and 16 optocoupled outputs. Easy to use, thanks to its installation driver and software libraries which also reduce installation costs, CAN-IO is the right answer to the need to acquire digital signals and to control power outputs from a PC in an industrial environment.
Besides, an integrated temperature sensor allows knowing in real time the temperature of the system CAN-IO is placed in.
The use of CAN interface allows CAN-IO high speed, hardware independence, and flexibility in the expansion of connected cards. The board size is the standard European Format Card so that it can be easily integrated into several systems. Besides, IO1616 has its inputs and outputs galvanically isolated to protect from electromagnetic disturbances and ground loops, improving its reliability and quality.
CAN-IO is provided with a configuration software for Windows XP, Windows Vista and Windows 7.
Technical features
Power supply: self-powered through USB or +5VDC in Stand-Alone Mode
Working temperature: from 0° up to + 60°C
Storage temperature: from -40°C up to + 85°C
Size: European format card (100 x160 mm)
Inputs: 16 optocoupled inputs which can bear a voltage up to 36V
Outputs: 16 optocoupled open collector outputs which can bear a voltage up to 36V
CAN: configurable high-speed o low-speed, with customizable baudrate (up to 1MB/s) and support for extended or standard frame
Interfaces to PC: 1 USB port type B, compatible with USB2.0, 1 port RS232
Technical features of inputs
Number of inputs: sixteen
Maximum operative voltage: 36VDC
Low level: lower than 1V
High level: higher than 2,5V
Impedance: about 2,5 kΩ
Maximum current on each input: 10mA
Protection: optocouplers with 2.500Vrms maximum operative voltage
Connectors: pitch terminal block
Technical features of outputs
Number of outputs: sixteen
Maximum operative voltage: 36VDC
Maximum voltage open collector: 150mA
Protection: optocouplers with 2.500Vrms maximum operative voltage
Connectors: pitch terminal block
CAN port technical features
Configurable high-speed or low-speed mode
Customizable Baudrate (up to 1MB/s)
Customizable address(standard or extended frame)
Consistent with standard CAN 2.0B Active Specification
DB9 male connection
USB port technical features
1 B port self-powered from the host connection